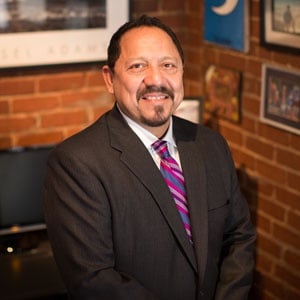 Albert Garcia
Attorney
Email: agarcia@albertgarcialawoffice.com
Alberto is recognized as a skilled attorney in personal injury and criminal law. His career began in 1995 as a Tulare County Prosecutor. Mr. Garcia was the defense attorney in Tulare County's worst mass murder at Pato's Place. Officers who supervised called the Pato's Place slayings the most complicated case in the department's history. Mr. Garcia has over 25 years of experience representing wide range clients in all types of personal injury and criminal defense cases throughout the state of California. He strives to work hard for his clients and has a desire to serve, defend, and protect his client's rights.
Childhood and Early Life
Alberto comes from a humble beginning and his childhood work experience has been his drive to be the best he can be at his legal practice and helping others in need. He started working in the fields of the city of Selma with his parents and siblings at the age of 5, picking tomatoes and grapes. At the age of 8, he also began selling shoes and Christmas cards door to door. By age 13, he gradually transitioned from field work to yard work. Because he helped his family in the fields after school and summer breaks, he missed out on school sports and extracurricular activities. He enjoyed working on yards for different people and always seemed to have several jobs because of the reputation he built for himself - he took pride in making sure his clients had immaculate yards and were happy.
As he grew older, Alberto had many different types of jobs ranging from a stock boy to store clerk. Hard work instilled a strong work ethic in him. Before entering law school, Mr. Garcia obtained a degree in Accounting and worked for several financial institutions including American General Finance and Bank of America. Mr. Garcia was President and CEO of Silverline Mortgage Company from 2000 to 2006.
Professional Experience
Attorney
Law Offices of Albert Garcia

2000 – Present

Practicing personal injury and criminal law. His familiarity with the courts and law has made a tremendous difference in the outcome of his client's cases.
Deputy District Attorney
Tulare County District Attorney's Office
1995 – 2000
Education
Point Loma University, Attended in 1983-1984

Fresno Pacific University, Bachelors of Arts Degree in Accounting, Graduated in 1987

San Joaquin College of Law, Juris Doctor Degree, Graduated in 1994